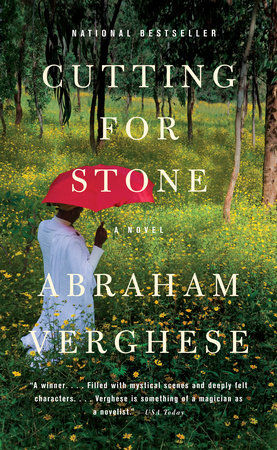 A friend recently recommended Cutting for Stone by Abraham Verghese. I struggled with this book. I struggled to read it, I struggled to put it down, and I struggled with the content. At one point I even cast it aside deciding not to read it, only to soon pick it back up again.
Abraham Verghese is a physician, teacher, and author and,
"His work as a physician informs his writing and the reflection that comes through his writing helps him empathize with his patients and to see them individually, as human beings who are suffering, fearful and in need of not just treatment, but of comfort and reassurance."
This is the man who has written such a troubling work. The book begins with the birth of conjoined twins, Shiva and Marion, to a Catholic nun, Sister Mary Joseph Praise, at Missing Hospital in Addis Ababa, Ethiopia. Sister Mary Praise dies during childbirth, perhaps due to the inaction of Dr. Thomas Stone, the father of the boys who soon deserts them, the clinic, and the small family of doctors, nurses, and faithful who reside there.
The boys are immediately adopted by Dr. Kalpana "Hema" Hemlatha and Dr. Abhi Ghosh, as well as the rest of the clan at Missing Hospital but this is only the beginning of the struggles in this weighty book. At times the book is graphic and violent, at other times tender and kind, all the while exploring the struggles of the poor and disenfranchised in Ethiopia and beyond. A passage about female circumcision nearly caused me to faint, while passages of the feelings between the brothers and their parents, both biological and chosen, brought me to tears. Other passages, particularly those involving Genet, an Eritrean girl raised alongside Marion and Shiva on who's impulsiveness the whole novel turns, elicited tightness in my chest, anger, and embarrassment.
What is this book really about? As Verghese writes near the end of the book,
"The world turns on our every action, and our every omission, whether we know it or not."
The path of our lives is determined by daily, at times hourly, decisions. These decisions often seem inconsequential in the moment but aggregate over the course of a life into something meaningful and, let's be honest, sometimes that meaning is pain. Sometimes our decisions cause pain for ourselves and often they cause pain for others. Other decisions bring joy and love. Still others bring outcomes that we may never see or know about. That's what Cutting for Stone is about.
It's also about the importance of caregivers in the lives of the sick, needy, and afflicted. Verghese writes touchingly about the boy, Shiva, recognizing the needs of an outcast girl suffering from a fistula, ultimately dedicating himself to the treatment of this condition. He uses the character of Ghosh to illustrate the importance of listening to the needs of others and he uses so many of the treated to remind us that they, too, are humans.
I cannot stress enough how troubling and graphic so much of this book is. It is an important reminder though, particularly for those of us fortunate enough to live in the US, of how difficult it is to live in much of the rest of the world. There are political, economic, and health tragedies that occur every day from which we are insulated. There are emotional, spiritual, and physical wounds suffered by those around us that we may never see.
In Cutting for Stone Abraham Verghese reminds us all of the importance of recognizing the humanity in others and in ourselves and in the grace we provide to those in need, simply by being kind. As Verghese writes, "The world turns on our every action…whether we know it or not" Ultimately this book is about remembering we're all in this life together. All of us. The educated, the sophisticated, the wounded, and the untouchable. We're all in this life together and we need one another. I encourage you to read Cutting for Stone, but prepare to be challenged by every page.
---
Like what you read here? Click the "Subscribe" button on the right side of the page and get each new blog post delivered to your inbox.
As always, please leave your comments below, both good and bad. We love to hear from you.
Please note that there are Amazon Affiliate links in this post. We will earn a modest commission from qualifying purchases made through those links. It is very much appreciated. Thank you.